Best Moving Company in Lewisville, TX
Move to the peaceful suburban community of Lewisville with Firehouse Movers Inc.
Firehouse Movers is proud to serve the residents and businesses of the Lewisville community and the greater North Texas area. Our firefighter moving company offers an extensive selection of moving services at reasonable rates.
Our goal is to ease the stress that comes with moving while delivering superior customer care. Move with us and benefit from the most convenient moving and storage services. Our movers in Lewisville, TX are licensed to handle all types of moves anywhere in the state of Texas.
Local Moves and Short-Distance Relocations
Lewisville is a well-known suburb of Dallas and for good reason. Conveniently located just north of the city on the shores of a lake that shares its name, Lewisville is a vibrant area with a perfect balance of peaceful residential neighborhoods and thriving commercial areas. At Firehouse Movers, our local movers in Lewisville live in the communities they serve. If you are looking for local expertise, you will find no better source than the moving crews at our Lewisville moving company.
That's why you should book our local moving company if you are moving to Lewisville, Dallas, Denton, McKinney, Plano, Garland, or anywhere else in Denton County, Dallas County, and Collin County. We have movers in Dallas, TX. We have movers in Denton, TX as well as movers in McKinney, TX. Need movers in Plano, TX or Garland, TX? Rely on our local moving company in Lewisville to meet all the short distance moving needs of your family or business.
Long-Distance Moves and Texas Relocations
Registered to the Texas Department of Motor Vehicles, Firehouse Movers is also licensed to carry out long-distance moves to any city within the state of Texas. Wherever your new home or office space is located, our movers in Lewisville, TX can safely deliver all your items there free of damage. Our long-distance moving company can help you relocate anywhere in North Texas and all other regions of the state. If your next move will take you far from the Dallas-Fort Worth metropolitan area, book Firehouse Movers.
Residential Moves and Apartment Relocations
At Firehouse Movers, we specialize in residential moves and perfected the process after helping countless families make their moves. In you need help moving out of your house or apartment, trust our residential movers at our Lewisville moving company to make the process seamless. We will create a custom moving service package that best fits your needs, budget, and timeline. Our residential movers will show up at your home and pack up your entire household in just a few hours.
Your items will carefully be loaded into one of our secure fire engine red moving trailers and then transported to wherever your new home is located. We work hard to give customers a damage-free delivery for all moves. If you move is a local one, expect your items to arrive within a few hours. For long-distance moves, our team will maintain communication to ensure you are consistently updated on the status of your delivery.
Commercial Moves and Office Relocations
Our licensed movers in Lewisville, TX and moving consultants can apply their expertise to businesses that are planning on relocating. If your business is moving to another office, Firehouse Movers can take care of packing, transporting, and delivering your office equipment, furniture, and other items with very little downtime on your company operations. Our commercial movers in Lewisville, TX can complete both office relocations and corporate relocations.
Packing Services and Supplies
As a full-service moving company, we do so much more than drive a moving truck. In addition to loading and unloading, our moving company in Lewisville also offers timesaving packing services. Using high-quality moving boxes and packing materials, we will ensure all you household items and furniture are packed and protected for their journey to your new home. If you would rather pack by yourself, you can order these packing supplies directly from Firehouse Movers. Materials like boxes, stretch film, tape, bubble wrap, and moving blankets can be delivered to you.
Portable Storage and Warehouse Options
Our moving company in Lewisville, TX delivers both moving and storage services to customers. At our secure storage facility, we offer short-term and long-term storage solutions for those that need to store some of their items when moving. Firehouse Movers also offers portable storage containers that we can bring to your home. Fill them up and one of our teams will transport them back to our warehouse where your belongings will stay until redelivery is requested.
Book Our Movers in Lewisville, TX
Gearing up for your next move? Book our Lewisville moving company. Firehouse Movers wants to become your trusted source for moving, packing, and storage services. Our core value of customer service guides all our movers and office staff. For easy moving experience at a competitive price, call 972-412-6033 or email us at info@firehousemovers.com for a free moving estimate!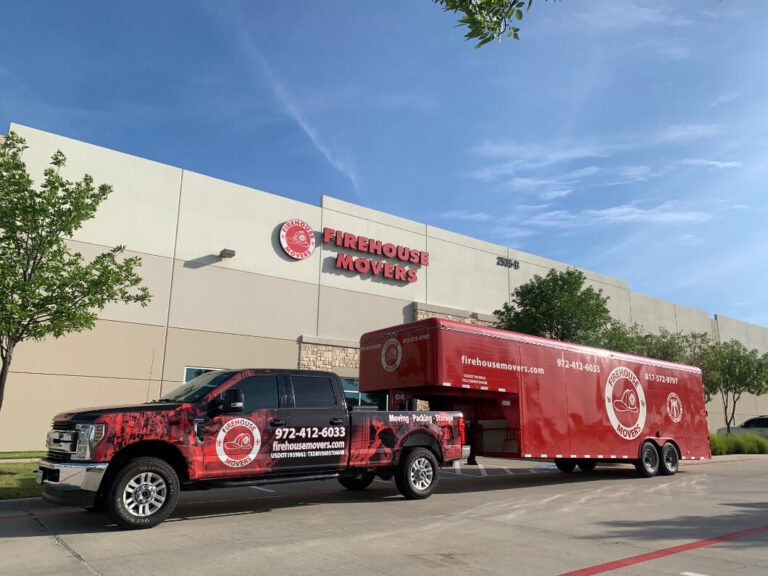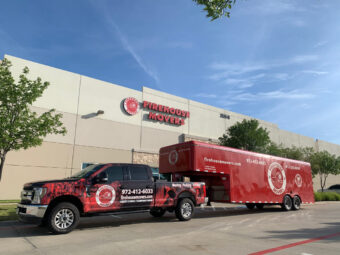 Amanda Widlund
21:29 29 Nov 22
This is our second move with Firehouse Movers. Such a great experience as moving is stressful enough. The crew was amazing, so polite and SO efficient! It couldn't have gone any smoother!

Very friendly, fast and very reasonable rate.

Zariah Calhoun
16:10 29 Nov 22
Great work! Super quick and efficient. Really nice guys and respectful. Definitely recommend. Great prices too!

michael suggs
20:08 28 Nov 22
This company is awesome , from the first phone call to the last box moved ! Jesus and his crew were phenomenal , would highly recommend this company , they are top notch ! They go above and beyond to make everything right . They made the move easy and painless !

Kimberly Richards
18:28 26 Nov 22
What I liked about Firehouse Movers and what stood out to me were 1.) They sent a 3 man team. In the Texas heat and a 3rd floor apartment move, a three man team is better than two. Less time to be tired, they were able to strategize and be efficient. 2.) They didn't have to load the truck and instead walked all items from 1 apartment building to the next building as we were moving within the same complex. 3.) They wrapped all of the items needed as well as took care. 4.) They hustled!! They would talk or check in, but they were focused on the task at hand and to knock the move out. 5.) Every person on the team was professional, courteous and enjoyable to work with. This is our second move with Firehouse and I would use them again.

Jade Parrish
22:45 23 Nov 22
We've used Firehouse for 4 moves now and we continue to have a great experience with them. They always handle our items with care, I've never had any issues with that - unlike other national movers. Noe's team and Jose's team were awesome. Highly recommend!

Firehouse Movers are the best!! From our first conversation to the end, they were awesome. Thanks Julio, Javier, and Rigo!!

Jennifer Hilliard
13:55 23 Nov 22
Top shelf company! Seamless & painless support from start to finish. Highly recommended!!

Brooke Roney
01:18 23 Nov 22
Cameron and crew were wonderful! Quick, easy and efficient. Thanks guys!

Diane Frisch
16:44 21 Nov 22
We were super-satisfied with Firehouse movers! The quote process was easy and fair. The crew showed up right on time. They were careful, neat, respectful and all around helpful and nice. They had a nice and large crew so that the move went as quickly as possible. I would definitely use them again!

Nicholas Komar
14:25 21 Nov 22
This is the second time we've used Firehouse Movers to move our home. We had such a good experience with them the first time in 2019, that we decided to use them for our second move in Nov '22. The quoted rate was very reasonable, and they moved so quickly we actually came in under the estimate. The gentlemen who moved us were very professional, had positive attitudes, and were very friendly (even funny!) to us. All of our furniture and appliances were wrapped and handled with great care.IMPORTANT NOTE ON CUSTOMER SERVICE:While they were moving our refrigerator, the power cord was accidentally snapped. This is enough to frustrate anyone going through a move, and knowing they may be without a way to store food in the new home. The guys were very empathetic about the situation, and ensured us that they would make it right. Firehouse located a replacement power cord for our model of refrigerator, went and got the cord from Dallas, and then sent someone to repair our fridge at no extra cost to us.... all within a few hours after our move had finished!Perfect 5 out of 5 for the second time using them, and I would recommend them to all my friends and family!

Bryan Tharpe
15:36 19 Nov 22
I had a three person team help move us into storage before a home remodel led by Israel.They showed up on time, we're very thorough, and very professional.I'll definitely be using them again to move back into our house afterwards.

Debbie King
23:07 18 Nov 22

They were fast, friendly and most importantly careful with my furniture. I got three guys that did not stop or quit they had me in my out of my old apartment and in my new one, before I knew it. I would recommend them to anybody that is moving.

Jeffrie Schultz
01:22 18 Nov 22
The guys were very organized. They have a good personality and answers all questions.

Dennis White
01:19 18 Nov 22

Firehouse helped me move a few miles recently. Not only were they efficient, nothing was damaged and it was considerably cheaper than I thought it would be (due to their efficiency with moving everything). The moving team was very friendly. They even accommodated a sudden change a day before my move when I learned that I wouldn't be able to get the keys to my new place until mid-afternoon.

Doberman Rescue
18:21 17 Nov 22
I have had many movers over the years. But Firehouse movers is the best. They are up front and there are no hidden fees. They made sure that my belongings were in the same condition it was in before the moved. I can't say enough good things about Firehouse movers.

Jodi Yauch
02:10 17 Nov 22
Rhomonte, Anthony, and Braxton were phenomenal!!! Best move experience I've ever had. These men were super careful AND swift, finished under the estimated time and just handled the job beautifully. I'd been dreading this move, having had bad experiences in the past, but I cannot say enough great things about the movers or the company. Liz was extremely communicative about the move details and a real pleasure to deal with. I've been bragging to all my friends and family about what an awesome moving experience this was. Thank you Firehouse Movers, y'all are amazing!!!

These gentlemen are nice, quality, and obviously know what they're doing. I highly recommend.

Angela Jablonski
18:34 16 Nov 22
Outstanding moving experience beginning to end! Alex, Giovanni & Erix are awesome. They are respectful, kind, fast and careful. In the office, Shae & Elizabeth are professional & responsive with the estimate & scheduling. I highly recommend.

Judy Bovaird
16:26 16 Nov 22
Very careful with all my furniture. Polite and courteous. Efficient.

Scott Unclebach
20:08 15 Nov 22
My move was flawless! Amazing team and attitude. Could not say enough good things!! Will use them and recommend them!

Deborah Scott
05:32 15 Nov 22
Good quality ,good value, professional and responsive... This is the 3rd time I've used them and I will use them again! Kudos to everyone!!!

Sandra Mittelhauser (S . Jo)
14:01 13 Nov 22
Professional efficient and reasonable pricing

Casey Rasul
14:28 12 Nov 22
Very professional. Great service.

allison majors
01:17 12 Nov 22
I would highly recommend Firehouse Movers. They showed up on time and did a fantastic job on an out of town move. The movers were friendly, professional and very efficient.

Stephanie Enriquez
20:21 11 Nov 22
Steven, Roberto and (Yun - Sorry, I didn't know how to spell your name) were very friendly, professional, helpful and quick when getting our move done today. Would highly recommend them to everyone.

Lisa Beard
21:50 10 Nov 22
Oscar and his crew were great!! Very professional and very nice. Made my move a smooth and stress free ordeal.

Robert Wiltsey
19:10 09 Nov 22
Very professional, it's a new remodel, they were very careful not to bump or scratch the walls. New hard wood floors and not a scratch.

Leslie Wilson
17:34 09 Nov 22
The guys did such a professional and efficient job! Very friendly, never complained and everyone worked well with each other. We are super pleased and would recommend Firehouse Movers highly to anyone.

Lauren McMahon
15:02 08 Nov 22
Using Firehouse movers was easily the best decision we could have made! The team did an amazing job, they were efficient, fast and super nice! I would 100% recommend them to anyone in the future!


Brenda Martinez
18:51 06 Nov 22
Funny guys they were fast !! Great movers will use them from now on ! Thank you for moving my things with care and speed

Joanna Lynn
02:13 06 Nov 22
Timely arrival and super nice team of movers! They were careful with our belongings and overall wonderful to work with with our local move. Will definitely use again!

Valerie Johnson
15:30 05 Nov 22
Cannot say enough about our great experience. Carlos, Ceasar, and Crew Chief Mark were remarkable. They worked quickly and efficiently, yet were still able to take a quick moment here and there to be personable, warm, and friendly. We were an out-of-town move, and felt SO blessed to get the same crew on both loading and unloading days. They literally knew our stuff. We've got a few boxes left to unpack, and so far no damage. We invited each one to meet us for a meal if they're ever back in the area. That's how much we liked them—enough to hang out when we're not all working so hard. As business owners ourselves, we recognize and appreciate employees who earnestly love what they do and commit to quality work. Mark, Carlos, and Ceasar—top-notch.

Bryan Young
22:34 04 Nov 22
I had a three person crew out to fill a pod, but they filled it up and I had more to go. I got another pod delivered the next day, and they got another crew out there on very short notice to save our bacon. They were hard working and very personable. I felt safe trusting my belongings to them. Good peeps.

Jason Whitehouse
20:16 04 Nov 22
Cameron and his crew were fabulous! We had an extra stop, they moved a basketball hoop, they did everything we asked. Super friendly, courteous, very respectful of our belongings. We will definitely use Firehouse Movers again!

Ronald Lentz
19:24 04 Nov 22
Carlos and Logan worked very fast but thoroughly to get us loaded before rain started and the worked very hard to get everything moved onto our new home. They are champs and deserve recognition.

Vanessa Martin
15:15 04 Nov 22
This moving company is top-notch! Elizabeth coordinated our move from beginning to end, making sure that every facet of our move was covered. As a single mom caring for 13-year-old son and an 80-year-old mother, moving 2700 sq.ft. of belongings on my own felt extremely overwhelming. She reassured me that she would "hold my hand" all the way through and that is exactly what she did. She sent Noe and his team who helped pack and move the entire house. I don't know what I would have done without this amazing team of people. They truly were a blessing! Anyone who decides to move really needs to contact Firehouse Movers to see what they have to offer. It is definitely worth the call to this EXCELLENT establishment!

Barbara Starnes
18:57 02 Nov 22
The three men who helped with our move - from storage & apartment to our new home were extremely professional. The final cost was within the quote. No hidden fees! No trying to hostage our items. I highly recommend this company.

Mallory Moredock
05:41 30 Oct 22
Second time using firehouse movers and every time they exceed expectations. We will always use them when moving! Highly recommend!

Andrew Brewer
17:30 29 Oct 22
The 3 guys they sent over were amazing! They were polite, they were friendly and fun to be around, they were very professional and even when they didn't think the whole house would fit in one truckload they managed to pack it in there well enough that it did!I would hire these guys again in a heartbeat!My team was:Rhomonte Deas (Crew Lead), Anthony, and Tywan.By the end of the packing (3 hrs, 45mins), I felt like I knew them all as fiends. They are all so kind and humble. Very easy to work with and an absolute joy to work with!

Susie Magee
13:15 29 Oct 22
Three men with three dollies moved fast. Great job!! Will use again.

Ella Beale-Peacock
23:04 28 Oct 22
Javier and his crew were quick and efficient. Definitely recommend them for any move.

Ramesh Kumar Akula
21:22 28 Oct 22
Awesome experience with local moving. Very understanding and knowledgeable moving crew. Did a great job

Roy Watson
01:04 28 Oct 22
The service and professionalism was incredible really enjoyed meeting the whole crew I would highly recommend Firehouse movers

Frederick Hall
01:24 27 Oct 22
I could not be happier with the service I received today. The guys were very careful with our stuff and worked efficiently to get my very complex job done. I will be referring Firehouse Movers to my mortgage clients in the DFW area. Amazing value for the service received.

Belinda Reilly
16:19 26 Oct 22
I was speaking with your agent, her name is Shae,very professional & went out of her way to really help me with my move.I would definitely recommend your company to all my Friends & Family.Wonderful Service! Thank You

Jade Simons
22:08 25 Oct 22
10/10 would recommend they did everything quick and were super nice and polite

Sherry May
21:03 25 Oct 22

Samantha Heard
21:10 24 Oct 22
The team was professional and focused on completing the job as efficiently as possible! Steven, Pavel and the new guy thanks for helping make my move easy!

Jamie Hitchcock
14:16 24 Oct 22
Courteous, conscientious, hard working crew. Went above and beyond

Andrea Walsh
20:52 21 Oct 22
The office staff was SO friendly and helpful. They did a great job communicating with us. The team of 3 movers were all extremely careful,kind, respectful, and timely. We had a wonderful experience with Firehouse Movers and would love to use them again for any future moves!

Wayne Hoffman
19:25 20 Oct 22
I am a repeat customer. They are excellent and know how to make it happen.Very happy again.

Sheryl Ranne
18:15 20 Oct 22
I have used them twice and will never use another moving company.


Herman Botley
02:55 19 Oct 22
These folks have moved me twice and both times were easy,efficient moves. I highly recommend this company!!

Janet Hudson
02:24 19 Oct 22

Emily Bevill
16:35 18 Oct 22
They were so FAST! Our team, Carlos, Cameron, and Philly were true pros and everything arrived in a timely manner with little damage. They moved our 1600 sqft home in about 3.5 hours. It would have taken me and my family the entire day, but they were fast and it was like my 2nd floor apartment was no trouble at all. The office staff, namely Elizabeth, was informative and responsive throughout the planning process. I have no idea what they pay these people but it simply is not ENOUGH.

Don Taylor
16:33 18 Oct 22
Movers were great! Very efficient and friendly service! Will definitely use again and highly recommend their service!

DJ Cabrera
20:45 17 Oct 22
Thanks to Rhomonte and his team for their efficiency and professionalism. I highly recommend Firehouse Movers.

DJ Cabrera
20:29 17 Oct 22
Best moving company ever! We've used them three times too many and they've never disappointed.

darryl baker
16:52 17 Oct 22
100% recommend. Had two moving crews that were very efficient, professional, and so polite. This was the 2nd move we've done within the year. It was night and day between Firehouse Movers and the unnamed company that moved us less than a year ago.

Christie Baker
23:41 16 Oct 22
This was the 2nd move I've done within the year. This moving crew was efficient, professional, and so polite. 100% recommend. They checked in before just randomly dropping boxes anywhere. The supervisor also checked in frequently to make sure we had everything we needed and were happy with the service.

Fred Patrick
01:38 16 Oct 22
This group of guys were awesome! I had a short move with just a few pieces of furniture and they were fast, efficient, and friendly. They even played some soccer with my 8 year old son! Hands down best experience!!

Lindsay Neybert
23:41 15 Oct 22
We had a great experience moving with Firehouse Movers. Chris and his team were friendly yet professional. They did an incredible job moving all my stuff out of my apartment. Definitely recommend!

Rhomonte DEAS , Thywan, and Carlos were a pleasure to work with. They were professional and gentlemen and took excellent care of my things. Best movers I've ever had!Thanks! Jeri Quarles

Alexandra Morales
00:17 15 Oct 22

Great crew! Super professional and better priced than competitors! Will be recommending to friends.

Kathy Gonzalez
15:11 14 Oct 22
These guys are pros ! Responsive, on time, careful with the furniture and fast . We so appreciated their help and even put together the monster queen bed that I *hate* assembling! And they put ir together like it was nothing . You wont regret booking with firehouse movers . Thank you !!

Daniel Sienkiewicz
16:54 13 Oct 22
Holy cow these folks are great. Front desk is friendly, and the movers were efficient and careful with all of our stuff. I can't recommend them enough.

Ryan Tanner
15:53 13 Oct 22
USE THIS COMPANY!!! I just used this company for my move, and they literally left maybe 20 minutes ago. I HAD to leave a review due to how smooth and stress free my move just went. I move quite a bit due to working in property management, and these were by far the best movers I have ever used. They handled everything with care, and knocked everything out so quickly. Words can't describe how much I appreciate this company. THIS IS HOW YOU DO BUSINESS!!! Thank you so much!!

Kimberly Cordero
14:35 13 Oct 22
I just used Fire House Movers again for the 5th time. They are always on time, friendly, quick and handle all my items with care. I've referred many people to them over the last few years. Best moving company in Texas!

Jaclyn Esposito
14:52 12 Oct 22
These guys did great on my move! They were super careful, very friendly, very professional. I could not have asked for better.

Bob Spicer
23:23 10 Oct 22
The crew from firehouse movers was very polite and professional. They had our truck unloaded in a timely manner and took great care to make sure everything was handled with the utmost care. A big thank you to Stephan, Carlos and Alberto for being great guys to have welcome us to Texas.

Jamie Jannucci
23:05 10 Oct 22
Steve, Bryce and Joseph did a great job moving us into a storage unit. I'll definitely use them again. They were kind, caring and professional. Thanks again guys!

Melissa Schmidt
18:39 10 Oct 22
Noe and two other guys came to pack some big furniture in the Uhaul trailer for us. They were friendly and very professional. I would definitely use them again. Thank you for making our move easier.

Cindy Rose (TexasGal)
16:34 09 Oct 22
Rates are a bit higher than other movers, but their crew was much faster and friendlier than Wrightway movers. Hands down they would be the first to call if I move again.Thank you to my crew @ Firehouse!

Jeron Butler
00:20 09 Oct 22
Firehouse Movers were professional and got my move done in a timely manner.

Michael Labedis
20:51 08 Oct 22
The guys did a fantastic job! Jose and his crew emptied the storage unit and got it all in our house in just under two hours!

Phyllis Labedis
19:39 08 Oct 22
I have only the highest of praise for Firehouse Movers. They were fast, efficient and professional, and they were so careful with my family antiques. I would highly recommend them.

Ann Stewart
14:26 08 Oct 22

Mike Drury
16:43 07 Oct 22
Every one of the 6 man team was professional, careful with our things and extremely helpful. They each went way out of their way to make our move as easy as possible Le for us. Highly recommend.

kate Ciaraffa
15:00 07 Oct 22
Moved us entirely in 2.5hrs!! They were so fast and great to work with. So happy with the service. Thank you guys for making the move so easy!!

Barry Schaefe
00:03 07 Oct 22
Firehouse movers were very friendly courteous and fast they did a fantastic job

Hiraru Sagara
15:42 06 Oct 22
The team at the office were incredibly patient, held my hand, answered the silly questions and were very responsive.The guys that came by to move me were extremely professional, called me "Miss" after every statement or question. They worked incredibly hard and were so respectful of my property.Not the least expensive quote I got, but glad I went with them despite the less expensive options.

The Sass Life
11:39 06 Oct 22
Very exceptional and very helpful movers! The whole team. They have done our office moves and EVERY TIME the service is consistent and professionally done. Chris is Awesome.

Vickie Korenek
23:08 05 Oct 22
Mark, Danial, and Diego were a fantastic team for moving. Soooo courteous and accommodating. Every time I asked if they could do something, the answer always was "we can do that for you". But, even from the beginning of the process regarding the reservation and coordination of our move, everyone was wonderful and courteous. There were no surprises. I highly recommend this company. And would use them again!!

Pi-Gi Brite
16:00 05 Oct 22
Best moving experience I had. The 3 men crews were professional, careful when moving my stuffs. We were informed at all time of our move. It were such relief to know my grand mom's 100 year old dresser were well protected during the whole move.

Corey Hennigan
02:10 05 Oct 22
Marco and his team were amazing! The took exquisite care of my belongings and still managed to hustle! It took only 2 1/2 hours from start to finish! Phenomenal job guys! If I ever move again, I know who to call!!!

Laura Young
01:53 05 Oct 22
Best movers ever! Highly recommend

Robert McKay
18:14 04 Oct 22
The firehouseMovers was very professional and understanding what needed to be moved from my apartment to U-Haul Storage. The move went very good. The three employees are Stephen, Pavel and Brice. The price was a good value and quality work.

Ashley Mitchell
14:37 04 Oct 22
2nd time moving with firehouse and they were great! Very friendly, fast, and pleasure. Highly recommend. I may have one more move in me, and they are the only ones I trust.

Cody Pilcher
03:23 04 Oct 22
Guys were fantastic! The whole experience was great. Very professional and friendly.

They always do a wonderful job!

Jonathan C
18:09 03 Oct 22
Great movers, no damage to items, fast and responsive.

James Shovlin
18:07 03 Oct 22
From my initial phone call to request a quote through completion of our move, 5 Stars. The office support was prompt and professional and they answered any and all questions that I had. The day of the move, the team called to confirm they were 20 minutes away and were very polite and respectful during the move. The gentlemen worked quickly and efficiently and were very careful with all of our belongings. I highly recommend Firehouse Movers!

Our movers were very professional and proficient. They were also very friendly and took great care of our belongings.Thank you,MG

Sharon Mazzoli
13:32 02 Oct 22
GREAT MOVING COMPANY! Very professional and caring.
Next Reviews
Moving Rate Form
"*" indicates required fields