Why Move to Frisco – Our 6 Favorite Things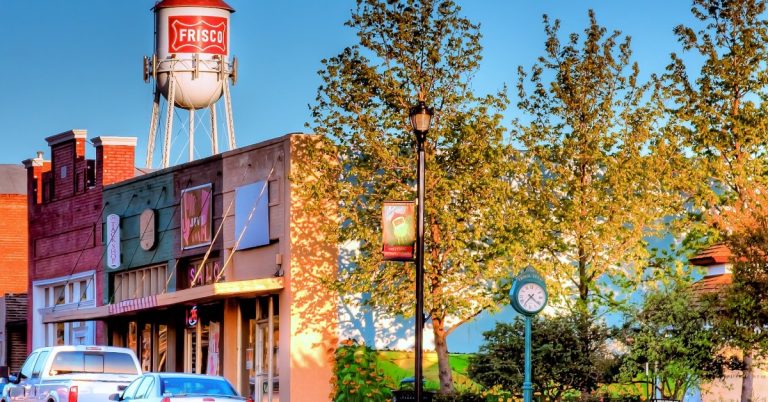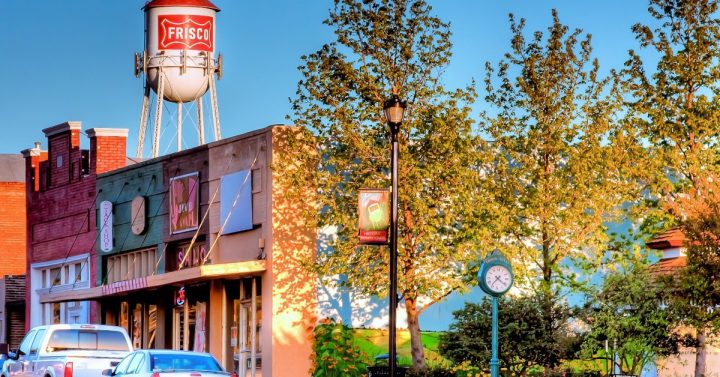 Thinking of moving to Frisco? Well we would be happy to have you! If you're still on the fence then we have a few recommendations for you to help you cowboy up and make a decision to move here as soon as possible!
We asked our Frisco long movers what they love most about our little slice of Texas and we came up with our 7 favorite things about the area. These are the reasons why you should move to Frisco!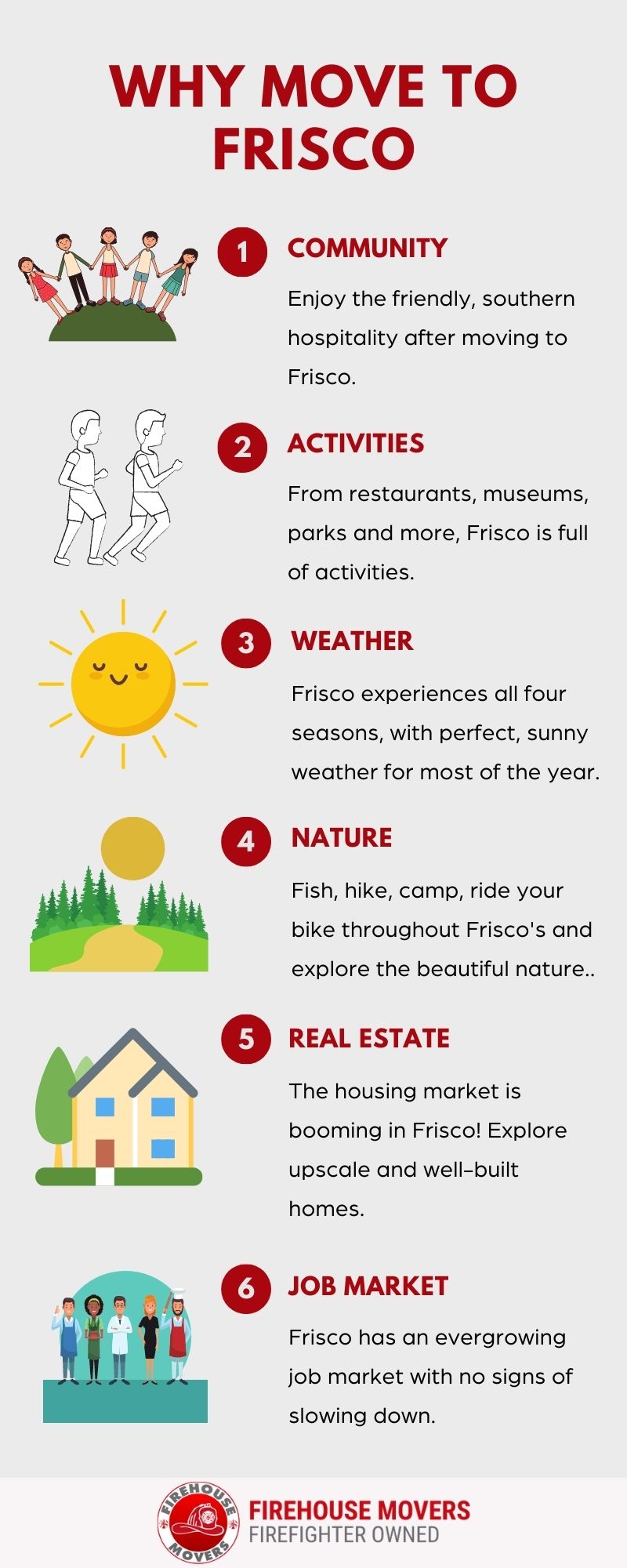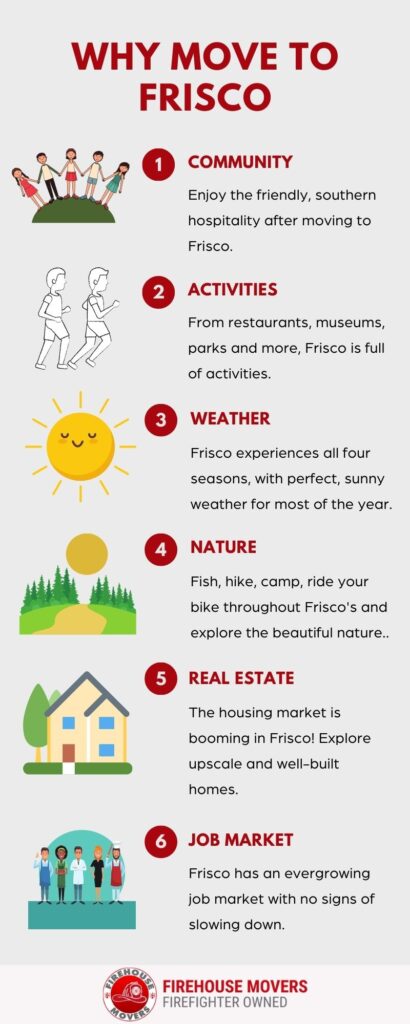 1 – The Community
Southern hospitality second to none. When you move to Frisco, you'll be pleasantly surprised just how nice we are, and just how neighborly we can be. You've heard the usual cliché's southern hospitality, southern charm. We are here to confirm they are very real.
Be prepared for your neighbors to welcome you in person and even offer you some southern cooking. You'll be invited to so many backyard barbeques that you may not have time to unpack for the first few weekends.
2 – There's So Much to Do
The Frisco downtown is incredible: they say everything is bigger in Texas, and we think Frisco is no exception. We have a big city vibes in a small town area.
Lewisville: it's the best mix of outdoor vibes and water park amenities. The party cove is a great place to bring your boat and enjoy the Texas sun!
Museums: There are lots of great day trip spots and museums in Frisco, but our favorites are the Traintopia In The Frisco Discovery Center, Beaver Bend Park, National Videogame Museum.
3 – The Weather
Contrary to popular belief, North Texas has all four seasons. Not only that, but our seasons tend to fall in the middle of the extremes. We don't have frigid winters or blistering hot summers. In Frisco, you can enjoy sunny North Texas days for most of the year and weather so good, you'll ask yourself why you didn't move to Frisco sooner.
4 – The Outdoors
The Texas outdoors are second to none and Frisco has so many unique activities to offer. There are so many places to fish, hike and camp that are perfect for outdoorsy folks, and for the casual explorer.
We recommend camping at Hidden Cove Park and Marina on the edge of the Lewisville Lake and take a hike through Bobwhite Park.
5 – The Housing
So, let's talk about the housing market in Frisco. Right now, you are in a buyer's market so moving to Frisco is a great opportunity!
The housing prices tend to be slightly higher than the rest of Texas but the neighborhoods are upscale and the houses are well built. A fantastic place to raise a family and invest in a fantastic home.
6 – The Opportunity
The job market in Frisco is booming and it shows no signs of slowing down. BestPlaces.com predicts that the area will see a 37% increase in future job growth in the next 5 years. This is the best time to move to Frisco so get to it!
Need any more reasons to move to Frisco? When you are ready to start your new life in one of the best cities in Texas, then give us a call, we are your go to Frisco moving company – 972-412-6033