How to Move a TV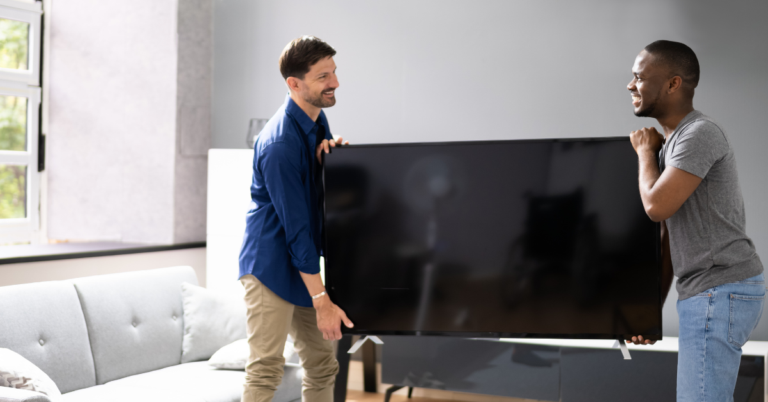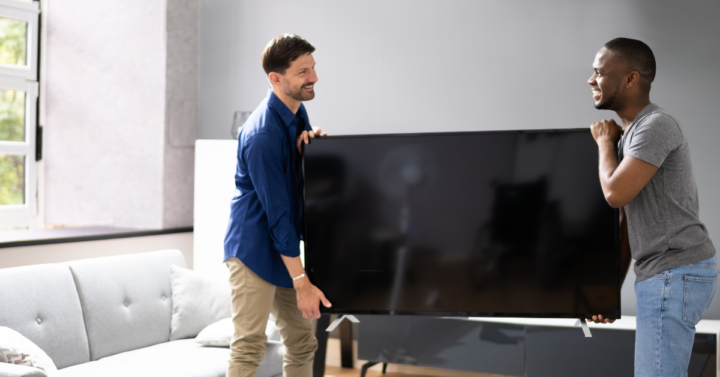 Learning how to properly move a TV is important to prevent damage to the television itself and to ensure the safety of both the TV and those handling it. TVs are delicate electronic devices with sensitive screens that can crack or become damaged if not handled correctly. Learning the proper techniques for moving a TV, such as using the appropriate packaging materials, securing cables, and lifting it with care, can help you avoid costly repairs or replacements. Additionally, knowing how to move a TV safely reduces the risk of personal injury and damage to other belongings during the moving process. If you are going to be relocating your home, you are going to need to learn how to move a TV. Our Dallas movers explain more in the following article. 
How to Move a TV by Yourself
If you want to learn how to move a TV by yourself, there are certain things that you will need to make sure that you take into consideration. Our Dallas packers and movers explain more below: 
Gather Supplies

– Get a sturdy box that fits the TV along with foam or bubble wrap, packing tape, and cable ties.

Disconnect the Television

– Unplug all cables and detach the TV stand

Wrap the Television-

Wrap the TV in bubble wrap or foam, securing it with tape. Our

Dallas long-distance movers

recommend that you protect the screen with a soft cloth or screen protector.

Pack the Television-

Place the TV in the box, ensuring a snug fit. You should also fill any gaps with packing material to prevent shifting.

Seal and Label the Television-

Seal the box with packing tape, label it as fragile, and indicate which side is up.

Secure Cables-

Bundle and secure cables with cable ties.

Transport-

Carry the TV upright with someone's assistance if needed, and place it securely in your vehicle. You should also look to make sure that the TV fits tightly into your vehicle so that it moves as little as possible. 
By following these steps, you can rest assured knowing that your television will be well taken care of. 
How to Safely Move a TV 
Our Dallas local movers would like to point out that there are several dangers associated with moving a television. Some of the most common dangers include shattered screens, back strain, tripping hazards, falling, and even electrical risks. Moving appliances and other materials could be dangerous, and our experienced moving professionals are here to make this process as smooth as possible. 
More About Firehouse Movers
Firehouse Movers is one of the most experienced Texas moving companies in the industry. Aside from teaching our readers how to move a TV or how to move a big TV without a box, we offer a full suite of moving services to our customers. This includes assistance from our Dallas apartment movers, Dallas long-distance movers, Dallas office movers, and Dallas piano movers, among many others. Schedule an appointment with our Texas moving company today to learn more.