Up and Coming & Affordable Suburbs in Dallas, TX
Home »
Up and Coming & Affordable Suburbs in Dallas, TX
Dallas consistently makes the various lists of cities fit for working professionals, families, millennials, and older groups alike. After weighing the pros and cons of living in Dallas, you've decided to move here yourself. If you're not from the city, though, you should definitely research the best Dallas suburbs in 2019 so you know what neighborhoods are ideal for you and your family. Our movers in Dallas have put together a list of the best places to live near Dallas, including the most affordable neighborhoods and suburbs.
Coppell
Ranked one of the best Dallas-Fort Worth suburbs to live in by Niche,1 Movoto,2 and Money Magazine,3 Coppell is a great place to settle down and even raise a family. Situated in the northwest corner of Dallas County, this suburban city offers a great selection of family-friendly amenities including high-performing schools and numerous parks – Coppell Nature Park and Andrew Brown Park are among the largest.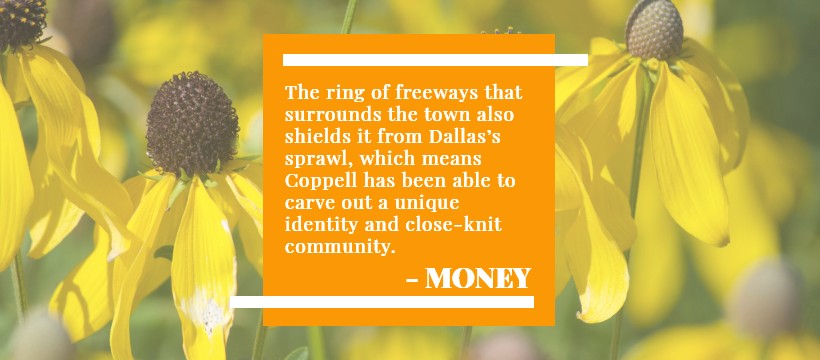 Peaceful neighborhoods made up of comfortable single-family residences up the city's livability along with its community initiatives and institutions including the public Cozby Library, the weekly Coppell Farmers Market,4 and an upcoming arts center. Ranked one of the best places to find a job as well as one of the best places for kids by WalletHub5 and Money Magazine6 respectively, it's easy to imagine a good life in Coppell, TX.
Plano
There is something for everyone here in Plano, Texas. Tourists and locals alike enjoy the seasonal events heal throughout the year as well as the variety of restaurants and coffee shops as well as shopping options. You can find something for a variety of tastes in Plano and as an up-and-coming suburb in Dallas, it frequently attracts new business.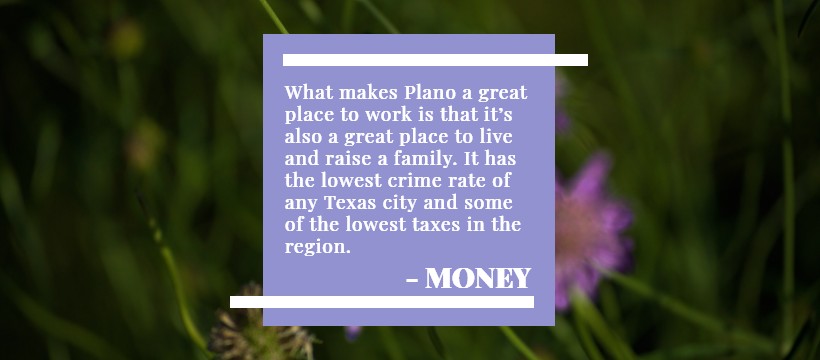 More couples and young families are also moving to Plano recently. In fact, Niche ranked Plano, Texas #4 on the list of the best cities to buy a house in America.7 The public school system is also highly rated so you can ensure your child receives a top-notch education in one of the best Dallas suburbs.
Frisco
Frisco, Texas is booming and it's not showing any signs of slowing down. As of the last census, the population stands at 180,0009 and continues to grow with a projected 14.91%8 rate of job growth through 2021. The city managed to take that growth and actually improve the overall quality of life for its residents, making it one of the best Dallas suburbs. As a result, Money Magazine named Frisco the number one city to live in America in 2018.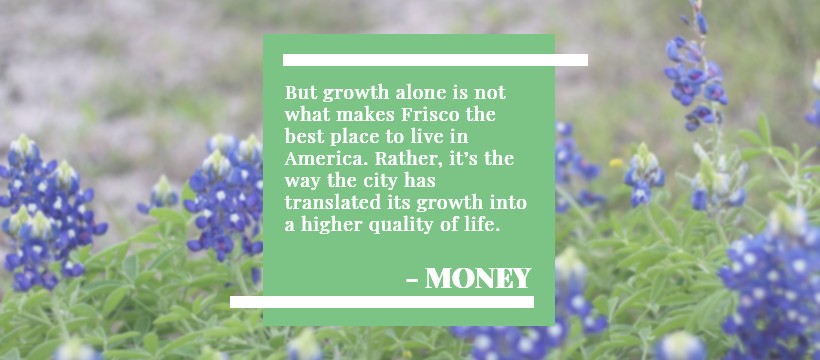 Another metric Money Magazine used to rate cities was education. Frisco certainly has a first-rate public school system. The Frisco Independent School District has the highest graduation rate across its 70 campuses compared to other cities considered the best places to live. As the city continues to expand, recreational, entertainment, business, dining, and shopping opportunities abound so residents can always find something to do on any given night. In any case, its proximity to Dallas makes it easy for residents to commute to the big city.
Moving to a Dallas Suburb
Whether you're moving to one of these neighborhoods around Dallas or you're making the move elsewhere, our North Texas movers are here to help. Our team of professionals offers local, long-distance, residential, commercial, and even packing services for your upcoming move. Contact our team to learn more!
Related Readings
Pros and Cons of Moving to Dallas
Best Places for Apartment Living in Dallas, TX
Sources
[1] Niche – 
Best Suburbs to Live in Dallas-Fort Worth Area
[2] Cassie Sheets, Movoto – 
These Are The 10 Best Dallas Suburbs To Live In
[3] Money Magazine – 
Best Places to Live 2015
[4] Coppell Community Gardens – 
Coppell Famers Market
[5] Richie Bernardo, Wallet Hub – 
2015's Best & Worst Texas Cities for Finding a Job
[6] Money Magazine – 
Best Places to Be a Kid
[7] Niche –
Plano, TX
[8] Money Magazine –
Frisco, Texas
[9] Frisco Texas –
Demographics