Family-Friendly Neighborhoods in Frisco, TX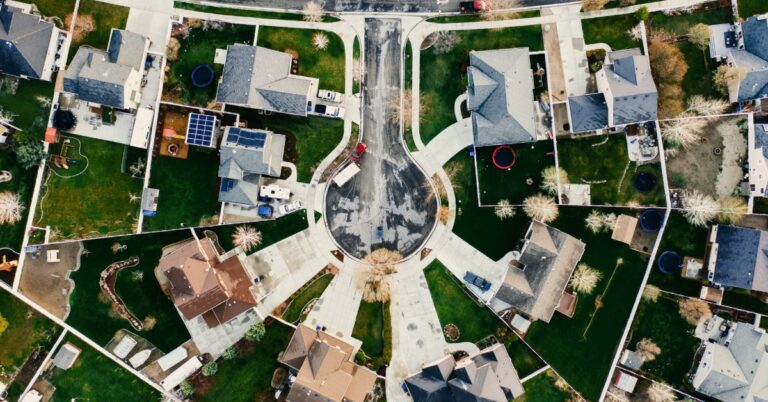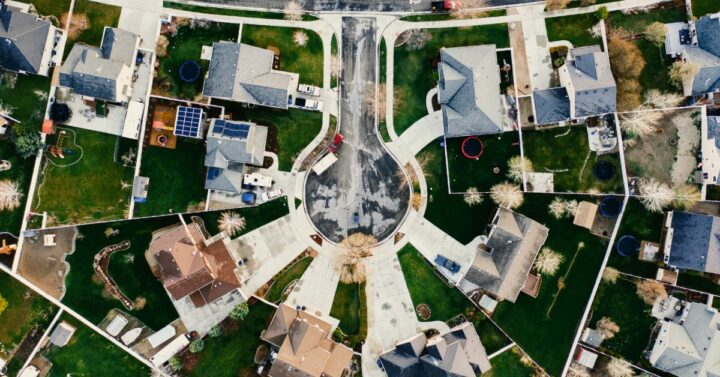 When searching for the best neighborhoods for families in Texas, many family-friendly neighborhoods in Frisco and Dallas suburbs make the list. At Firehouse Movers Frisco, our local movers love our hometown of Frisco, TX. With affordable real estate, top-performing schools, tight-knit communities, and plain old Southern charm Frisco, TX, is a great place to settle down and raise a family. We've put together the best neighborhoods in Frisco, TX.
Features of the Best Neighborhoods in Frisco, TX
When looking into family-friendly neighborhoods in Frisco, TX, there are lots of factors to consider. Are the schools top-rated? Are there parks nearby? What's the neighborhood safety situation?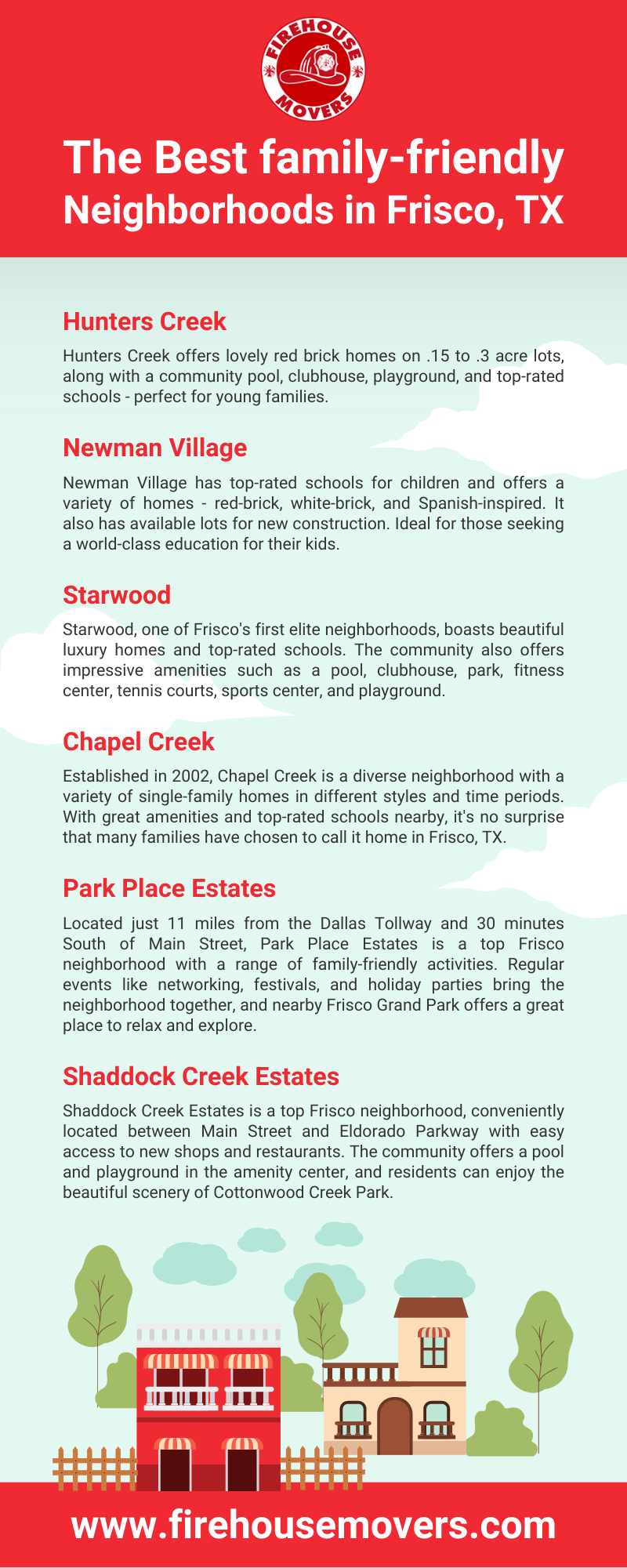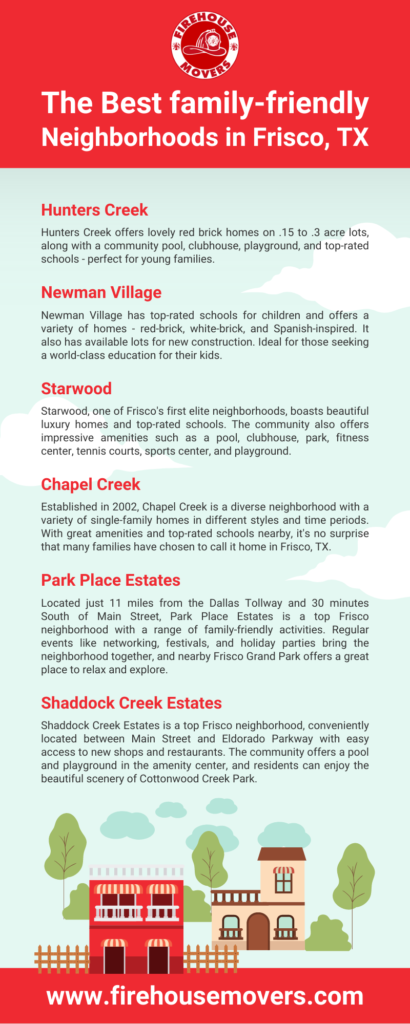 With so many beautiful neighborhoods to choose from it can be hard narrowing down the options, but don't fret our Frisco movers have done the hard work for you. Check out our list of the best Frisco neighborhoods that are family-friendly, safe, and great for households of all sizes.
Hunters Creek Neighborhood of Frisco
With more than 850 homes constructed as far back as 2002, Hunters Creek is one of the more established neighborhoods in the booming city of Frisco. Often considered one of the best neighborhoods in the Dallas-Fort Worth area, many families call Hunters Creek home. With a selection of beautiful red brick houses, typically on .15 to .3 acre lots, you may find your family home here. A community swimming pool, clubhouse, children's playground, and A+ schools make Hunters Creek an ideal place for young families.
Frisco Neighborhood Favorite, Newman Village
Another one of our Frisco local movers' favorite Texas neighborhoods is known as Newman Village. A peaceful gated community, Newman Village is a younger neighborhood than Hunters Creek, but it has quickly attracted many families. Children that live in Newman Village go to a top-performing elementary school, middle school, and high school – so if you want a world-class education for your kids, it's a great place to be. Choose from red-brick and white-brick homes, as well as some Spanish-inspired houses. Newman Village also has lots available for new construction.
Starwood Neighborhood in Frisco
Starwood is an upscale gated community that started developing in the late 1990s. One of Frisco's first elite neighborhoods, most Starwood residents live in gorgeous luxury homes. Children within this neighborhood attend top-performing schools throughout their primary and secondary education. With a community swimming pool, clubhouse, fitness center, neighborhood park, tennis courts, sports center, and children's playground – Starwood's neighborhood amenities are hard to beat.
Frisco, Texas Chapel Creek Neighborhood
Our Texas long-distance movers adore Chapel Creek, making the list as one of the best neighborhoods in Frisco. Chapel Creek is an expansive neighborhood that was established in 2002. It offers an expansive range of single-family homes with a wide variety of different styles and time periods to choose from. As it continues to develop throughout the years, there is no wonder that so many families have chosen to move to Chapel Creek. This Frisco neighborhood offers a range of amenities available for residents and some of Frisco, TX, top-rated public schools nearby.
Park Place Estates in Frisco, Texas
Park Place Estates is a thriving community that is in popular West Frisco. Just 11 miles from the Dallas Tollway, and 30 minutes South of Main Street, what makes Park Place Estates one of the best neighborhoods in Frisco are all the fun things to do in the area. This family-friendly neighborhood offers something for everyone in your family. Whether you choose to spend the evening strolling through Frisco Grand Park or are a neighborhood social butterfly, Park Place Estate hosts regular communal activities such as networking events, seasonal festivals, and holiday parties for the whole neighborhood to enjoy.
Frisco, TX Shaddock Creek Estates
Our Firehouse Frisco movers love the rare earthly setting of this glorious community. Found between Main Street and Eldorado Parkway residents have easy access to the newest shops and restaurants in the area. Shaddock Creek Estates is one of the best neighborhoods in Frisco, TX, offering an amenity center with a pool and playground, as well as breathtaking scenery from the Cottonwood Creek Park that surrounds the community.
Family-Friendly Movers
Ready to make the move to one of the best neighborhoods in Frisco? We're here to help! Whether you have questions about some of the other best neighborhoods for families in Frisco or you're wondering how much to tip movers, we're here to answer all of your moving questions. Contact our team today at 972-412-6033 for all your relocating needs.
Additional Readings:
What You Need to Know Before You Move Into a New Home 
The Safest Neighborhoods in Dallas
Tips on Apartment Hunting in North Texas
Original Post: September 2018
Updated on: December 2020