Yard Sale Tips to Help You Declutter Before a Move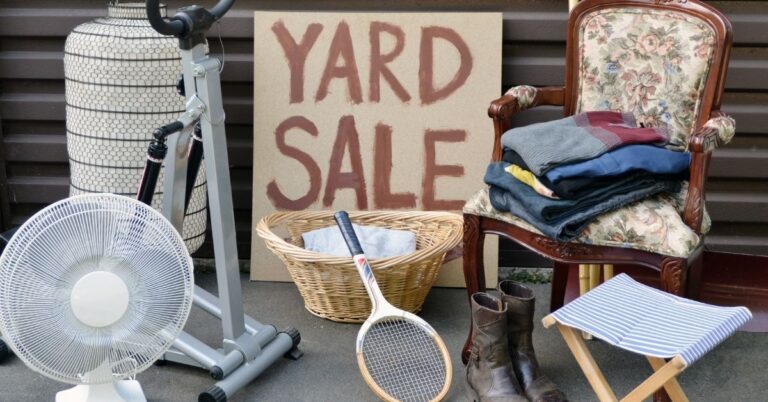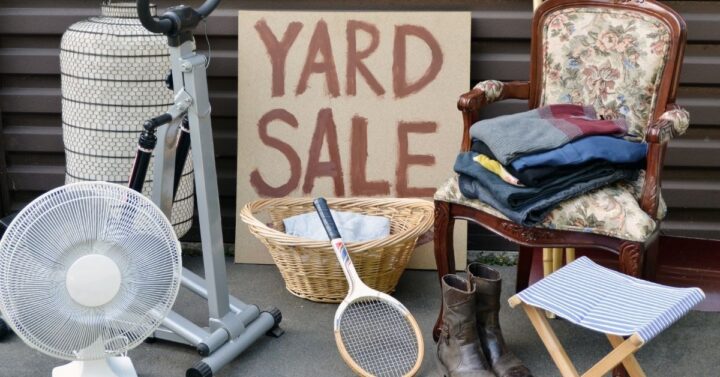 The best time to host a yard sale is right before moving. Hosting a moving sale is the perfect opportunity to get rid of things, declutter, and score some extra cash to cover moving expenses. While you can easily just toss, donate, or recycle unwanted items before moving, hosting a pre-move yard sale comes with a few perks. Not only are there fewer items to load onto the moving truck but you will also spend less time unpacking. The team at our firefighter-owned moving company shares a few tips on how to have a yard sale before moving.
Tips for a Successful Yard Sale
Hosting a yard sale involves a little bit more than just simply laying your unwanted items and furniture out on the lawn and putting up a sale sign. If you want to ensure a successful yard sale and get rid of most unwanted items for a decent price, these are some of the best yard sale ideas to help you out. 
1. Set a Date & Time for the Yard Sale
Our McKinney residential movers find that the weekend, particularly a Saturday, is the best time to host a yard sale. One of the great yard sale tips is to make sure you start early in the morning to maximize sale opportunities. As most weekend plans usually occur in the afternoon to late in the evening, people likely prefer to stop by yard sales earlier in the day so they can continue with their other plans later. Avoid hosting a pre-move yard sale on a holiday because people would have definitive plans with friends and family. 
2. Confirm with Local Authorities 
Hands down, one of the most important yard sale tips from our long-distance movers in Dallas is to check with local authorities prior to hosting a yard sale. Be sure to inquire about yard sale rules and regulations such as special permits so you are well prepared. We recommend taking the time to check in with local authorities about two or three weeks before hosting a yard sale so you have time to take care of any necessary paperwork. 
3. Get Creative with Yard Sale Advertising 
It's not enough to just set up a table with items you're selling and hope people will stop by; you have to advertise it to the community, let everyone know about it so you actually have customers. While most sellers put a yard sale sign on the side of the road, it isn't the most effective strategy to attract people. Expand your yard sale marketing efforts by printing out flyers and asking local businesses if they wouldn't mind highlighting your garage sale on their storefront windows.
Our local Denton movers suggest using social media to announce a yard sale. Create a post for the local neighborhood Facebook group and other places like the Next-Door app. Spreading the word about your pre-move sale and highlighting what items you will be selling is one of the best yard sale tips our movers have to offer. 
4. Ask Your Neighbors to Join Your Yard Sale
Inviting your neighbor to join your efforts is another great yard sale tip. The more homes hosting yard sales, the more attention it can get from the community. Not only will it make the day more fun and community-oriented, but it would also help you get the word out to more people, who would also have more items to choose from. This is a great way to sell more items at a yard sale and ensure you have a decent crowd of buyers eager to get unwanted items off your hands. As the saying goes, "one man's trash is another man's treasure!" 
5. How to Price Yard Sale Items: Set Fair Prices and Offer Bundled Deals
At a yard sale, the main goals are to get rid of as many unwanted items and furniture as possible before moving and, of course, make some extra cash. People who really know how to price yard sale items understand how much people are willing to pay for pre-owned items and sometimes even offer incentives if people buy more than one thing. While you don't want to practically give your stuff away, you should still set a fair price and even bundle certain items together at a  slightly discounted rate. For example, if you're selling an old game console, consider throwing in a few of the games into the mix. If you're selling off a collection of anything, offer BOGO or similar deals. One of the best yard sale tips from our Prosper commercial movers is to offer a discount when people purchase multiples of the same items such as books, jewelry, or clothes. 
Best Yard Sale Items
What are people looking for at a yard sale? You might want to get rid of so many things, but most people might not be interested in buying them. Our experienced Texas movers share some of the best yard sale items so you can set more realistic expectations about what you'll be able to get off your hands.
Like-new items

Clothing

Purses and accessories

Shoes

Jewelry

Antiques

Home Décor

Kitchen supplies

Board games and puzzles

Gaming systems and video games

Sports equipment

Outdoor toys for kids

Patio furniture

Yard equipment such as woodworking tools, trimmers, and blowers
Though it's possible, it's unlikely that you'll get rid of everything you don't want anymore at a yard sale, but there are plenty of places to donate unwanted items so you can successfully declutter before your move. 
Hire Professionals for Your Move After a Yard Sale
After hosting a yard sale, start looking for a reliable moving company like Firehouse Movers to help with the heavy lifting on moving day. At Firehouse Movers, we offer a wide range of relocation services in North Texas to best fit your needs. Whether you are moving down the street or across the country, we have got you covered. 
Our team of North Texas local movers and packers are professionally trained to ensure you have a seamless moving experience and all your personal belongings arrive damage-free. Contact us today to speak with one of our Firehouse Movers representatives and get started planning your next move. 
Related Reading: