Movers in Coppell, TX 
For many, Coppell is the pot of gold at the rainbow's end, the Emerald City at the end of the Yellow Brick Road. With a population of just over forty thousand people, Coppell is everything you want from a mid-sized Texas town. The city is big enough, yet small enough, to live the life that you want to live.
This town is small enough to know your neighbors but big enough that you can still find great Chinese food right around the corner. We hope you love living in Coppell. It's everything you need from the city and everything you want from a town.
Our Movers Can Help
So here's some good news when it comes to moving around in Coppell. The trip across town doesn't burn as much gas as it would in Dallas or Houston thanks to the assistance from our movers in Coppell, TX. The challenge, on the other hand, is knowing your way around. 
Big cities are laid out in ordered grids with highways running this way and that, making it easy for you to get the neighborhood that you're looking for. Medium-sized towns can be like a maze for new residents. Luckily, our movers can get your stuff where it's going without skipping a beat, and if you're lost, you can just follow us there.
Services Provided by Our Coppell, TX Movers
If there is anyone that understands what it takes to move your home, apartment, or business, it is our movers in Coppell, TX. We have the tools, expertise, and experience necessary to move your belongings to your new home, no matter where it is located and what items need to be moved. No two moves are the same, which means that you will need the utmost care, attention to detail, and flexibility in your Texas full-service movers. Fortunately for you, our Dallas area movers are ready to assist you in whatever specific thing you and your family need. Our full list of North Texas relocation services is detailed below:
Local moves

Full-service moves

Commercial moves

Corporate relocation

Long-distance moves

Packing services
Our Dallas moving company is ready to help you no matter the specificities of your move that need to be covered.
Coppell, TX Local Movers
There is no secret that local movers are your best bet if you want to make sure that you and your family are moved in as comfortably as possible. Local movers understand the local terrain and transportation arrangement so they could take the most effective route to your new destination. On top of saving you money when the time comes to pay, our local North Texas movers provide an advantage so you could rest easy knowing that your belongings are being taken care of.
North Texas Residential Movers
When it comes to moving, residential movers are the best option for people that are looking to switch homes. Residential movers like the ones that our full-service movers in Coppell, TX, and Dallas moving company hire are accustomed to moving different kinds of homes. We are proud of our flexibility and expertise when it comes to home moving.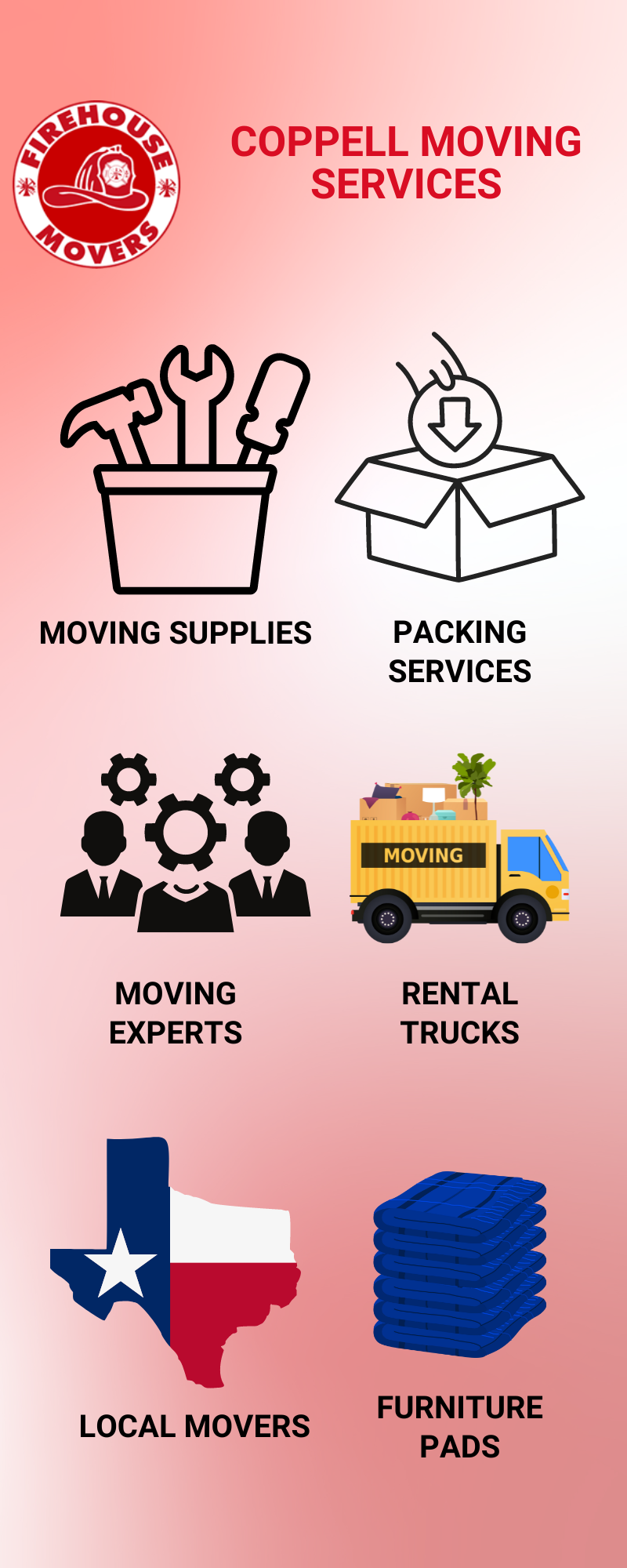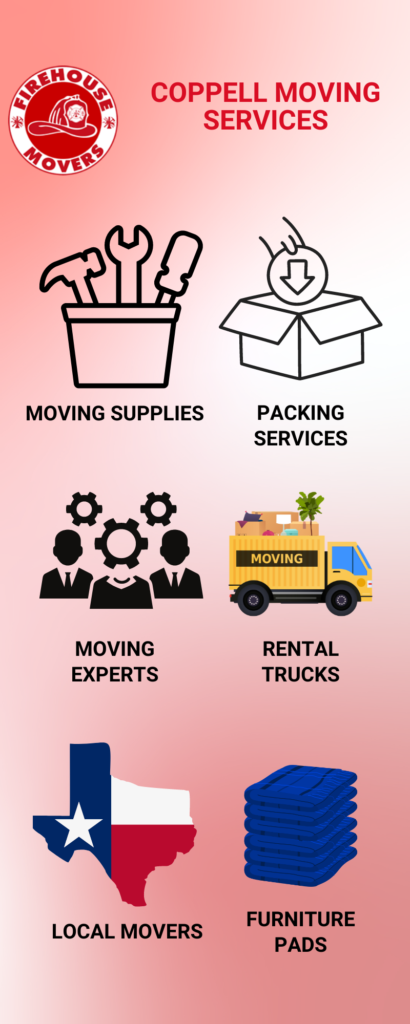 More About Firehouse Movers
We are a moving company that is fully dedicated to helping individuals and families settle into their new homes safely and effectively. We service areas all over Texas thanks to our Lewisville movers, Plano movers, Plano local movers, Plano apartment movers, and Frisco movers. Contact our movers in Coppell, Texas today to learn more.